Upcoming Events
No events, please check back later.
WELCOME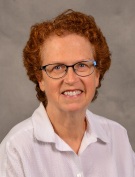 Patricia Kane, PhD
Chair and Professor

The central goals of scientists in the Biochemistry and Molecular Biology department are to research fundamental mechanisms in cells and organisms at the molecular level and to train the next generation of scientists. Read More...
Content
Program Basics
Faculty research in Biochemistry and Molecular Biology covers topics ranging from structural biology, bioenergetics and biophysics to cell signaling and cell biology. The department has particular interests in membrane proteins and transport, nucleic acid binding proteins, and oxidative stress, often using model systems in investigations.
These studies impact a number of human diseases, ranging from cancer to neurodegenerative disorders. Recent papers by faculty members and students have appeared in Science, Nature Cell Biology, Journal of Biological Chemistry, Journal of Cell Biology, Molecular Biology of the Cell, and Journal of Molecular Biology. The department continues to have a strong record of extramural research funding, primarily from NIH.
Department research facilities have all been recently renovated. In addition, the department is home to several core facilities including the X-ray diffraction core, the Cyro-electron microscopy core, the mass spectrometry core and the genomics core.