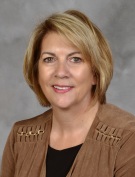 Roberta A. Rolland, PhD, RN, FNP
Director of Bachelor's Program
"The FNP program has helped me to grow professionally, while allowing me the flexibility to meet the needs of my family. The faculty are knowledgeable, offering guidance and support when I need it most."
—Sean Campanie, FNP
Family Nurse Practitioner
Content
BS Curriculum
This program of study lists the courses that you will be required to complete to meet graduation requirements.
NURS 310 Comprehensive Health Assessment (3 credits)
This course is aimed at broadening the student's knowledge and perspective of health assessment of the individual across the age span within the context of system interactions. Cultural and sociological aspects as well as communication skills for interviewing and history taking, which are critical to health assessment data collection, are emphasized. Risk factors and variables affecting health patterns are studied along with techniques for physical examination. Focus is on the performance of a systematic, comprehensive health assessment and the critical analysis of assessment data. Pre/corequisites: none.
NURS 326 Conceptual Bases/Professional Nursing (3 credits)
This course is the socialization course for the upper division Registered Nurse. Differences between educational preparations for RNs are analyzed. Components of a profession and the professional role are discussed and debated. This course focuses on identifying the scope of professional nursing practice from an evolutionary perspective. Emphasis is on exploring the historical trends on the development and implementation of the professional nursing role. The mission and philosophy of the College of Nursing are discussed and students articulate their philosophy from a professional and personal perspective. An overview of the theoretical bases for professional nursing is interrelated with current models of practice, particularly the principles of evidence- based practice. Students also apply principles of group dynamics. Pre/corequisites: none.
NURS 387 Health Care Policy & Politics (3 credits)
The focus of this course is on the role of the professional nurse as a participant in the political process in the practice setting and in the broader public sector. Particular attention is given to the development of public policy related to health care. Consideration is given to historic, sociologic, technologic, economic, legal, and political factors which influence health care delivery. Attention also is given to the local, state, and federal systems for financing and delivering health care with consideration of the issues of access and distribution of services. Analysis of the political action process is used to operationalize the concept of the nurse as an agent of change, client advocate, and participant in decision-making related to health policy. Opportunity is provided for the student to study a political issue and to meet with appropriate legislative representatives to discuss his/her position on current legislation related to the issue. Pre/corequisites: none.
NURS 414 Healthy Aging (3 credits)
This course focuses on holistic nursing care for the aging population. Theories and myths about aging are examined. The changes of normal aging and common health problems of older adults are included. Nursing strategies to assist older adults in achieving and maintaining productive and functional lifestyles are emphasized. In addition, concepts related to the care of patients and their families at the end of life are explored.
NURS 415 Management in Nursing (3 credits)
This course introduces the student to the symbiotic components of nursing management and leadership. Management and leadership theories are examined to reflect the interdependent relationship between the two. Emphasis is placed on the functions of the management process, planning, organizing, staffing, directing, and controlling, as they relate to the role of a nurse manager. Effective communication skills are discussed to facilitate group cohesion and team building.
NURS 444 Community Health Nursing (4 credits)
Using an open systems framework, this course focuses on the theory and practice of community health nursing. Community health nursing is a blend of two components: public health science with its roots in epidemiology and the art and science of nursing. While students work with individuals as well as families and groups, emphasis is on community-as-client to critically examine a population-focused practice of nursing. Students assess families and communities to identify health needs and to apply research-based nursing interventions at all levels of prevention to meet the specific needs of identified population groups. Using available community resources, students develop advanced communication skills in collaborating with clients and health team members to plan, implement, and evaluate interventions to improve the overall health of the community.
Prerequisite: NURS 326; Pre/Corequisite: BIOL 420.
NURS 456 Information, Quality & Safety (3 credits)
This course focuses on the skills and knowledge needed to manage information, promote quality and maintain safety across healthcare settings. Collaborative and diverse opportunities to bring about improvement in healthcare are included. The course combines evidence-based concepts from technology, information science, communication studies, organizational quality, and health care science in order to prepare clinicians to take an active role in transforming healthcare and clinical practice. Emphasis is placed on the nurse's active role in retrieving, interpreting, and sharing information to support an evidence-based clinical practice.
Prerequisite: NURS 481
NURS 465 Nurse as Educator (3 credits)
The focus of this course is on role development of the nurse as an educator. Emphasis is placed on preparing the student to perform effectively as a communicator of information which will enable the client to act as a responsible partner in his/her own health care. Recognizing teaching as an important clinical skill, this course engages students in formal inquiry into key components of patient education. Students have the opportunity to participate in the processes of needs assessment, design, development, implementation, and evaluation of education programs. Students conduct critical analysis of educational materials, apply research findings to patient education, and conduct a cost analysis of educational programs. The impact of legal issues, ethical dilemmas, and changes in the health care delivery system on patient education is discussed.
Pre/requisite: NURS 481
NURS 481 Research in Nursing (3 credits)
Research in Nursing addresses critical inquiry in the development of nursing science. This course is an introduction to the principles of scientific inquiry, including identification of forms of analytical thinking common to problem solving in nursing. Students are guided in the development of critical appraisal skills in the evaluation of both quantitative and qualitative research methodologies and in examining the role of the professional nurse as data collector, designer, producer, replicator, and consumer of research. Information will be provided to assist the student to critique selected nursing research studies, with the opportunity for evaluating and using research findings in relation to nursing practice.
Pre/corequisites: Statistics Elective or permission of course faculty; ENGL 325
NURS 484 Trends in Practice (3 credits)
This capstone course focuses on the role of the professional nurse in the changing healthcare delivery system. It provides an opportunity for students to apply and synthesize learning gained in previous course work and experience to the care of clients in a variety of settings. The students will choose a clinical experience for the semester in which to apply a selected concept to the nursing management of clients and to observe nurses in expanded roles in today's health care practice. Student led seminars on these concepts will facilitate the sharing of knowledge and clinical experiences to demonstrate nursing interventions within a new or expanded role and to enhance critical thinking and communication. The students will work with individuals, families, or groups in the community taking into account the cultural, racial, and ethnic diversity of the client population. During this clinical experience, the students will also refine their personal philosophy of nursing, be able to articulate it in writing, and compare it to their philosophy of nursing first developed in NURS 326. Pre/corequisite: First 3 semesters of BS program or equivalent of 75% of BS course work completed.
Prerequisite: NURS 326; Pre/Corequisite: NURS 481
BIOL 420 Epidemiology (3 credits)
This course presents epidemiological principle and methods with emphasis on the health status and health needs of a population, on levels of prevention, and on promotion of health strategies.
ENGL 325 Professional Writing (3 credits)
Reviewing the use of primary and secondary research materials, this course also covers copyright procedures, government documentation and annotated bibliography. The course stresses publication in professional journals and presentations at professional conferences. Pre/corequisites: None.
PATH 360 Pathology (3 credits)
This course covers basic pathologic mechanisms and specific diseases/disorders affecting the major organ systems of the human body. Commonly encountered diseases/disorders will be covered in detail. Pathophysiologic mechanisms and concepts are included, especially for most commonly encountered disease states. Topics such as genetics/heredity, immune system disease, and malignant processes are presented as well. Pre/corequisites: None.
Statistics Elective (BIOL 310) (3 credits)
Health Care Ethics Elective (CBHX 320) (3 credits)
Must be upper division course
This course covers examination of ethical theories and principles as they inform contemporary health care dilemmas. Students learn how philosophical principles such as autonomy, confidentiality, veracity, justice, beneficence, nonmalfeasance, and informed consent create a context for exploring particular ethical topics, i.e., suicide, reproductive rights, death and dying, abortion, testing and screening, biomedical research, and professional conduct. Though dealing with practical situations, this course emphasizes critical and theoretical thinking.
Pre/corequisite: ENGL 325
Total Credits = 61 | Nursing = 31 credits | Arts & Science = 30 credits
Lower Division Transfer Credits (Maximum of 12)
Other Course Selections