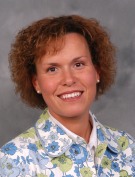 Jodie Brown, RN, MSN/MBA
Director, Center for Continuing Education
After being in the Air Force reserves, I came out of retirement to pursue further education. I would like to teach, and the Post Master's work supports that. Nursing truly is a life-long opportunity, both in what you want to do and the fact that you can take your career anywhere in the country.
—Carolyn Baskerville, RN, BS, MS, Post-Master's, 04, Pediatric
Content
Continuing Nursing Education
Whether or not you're enrolled in the College of Nursing, SUNY Upstate offers a variety of accredited, continuing nursing education courses for interested nurses. From half day to weekend-long conferences, nurses have the opportunity to enhance or learn new skills.
Continuing education courses are taught by a range of skilled faculty from across the region.  We partner with service line departments on our campus-such as Pediatrics or the AIDS center-to provide accredited specialty conferences. Courses such as Children at Risk, NP Review Course, Clinical Skills Day and Post Master's Certificate programs are repeated regularly because of popular interest.
Accreditation
Many continuing education programs are awarded with contact hours.
The SUNY Upstate Medical University Institute for Continuing Nursing Education is an approved provider of continuing nursing education by the Northeast Multi-State Division, an accredited approver by the American Nurses™ Credentialing Center's Commission on Accreditation.
If you would like more information, have an idea of a program, or would like to collaborate with the college on a program, contact Jodie Brown at brownjod@upstate.edu or 315 464-3905.
The Opioid Overdose Epidemic: How Nursing Can Help Turn the Tide
It is estimated that 80% of people who become addicted to opioids started with a prescription from a healthcare provider.  This is causing devastation in our communities that will last for decades.
Upstate Medical University's Opioid Overdose Conference challenges its audience of interprofessional clinical staff to understand opioid addiction and how we play an important role in stemming the tide in our country.  We can make a difference and save lives.
A diverse speaker panel will discuss the impact of the opioid overdose epidemic, addiction, narcotic prescribing practices, pain management and the role of healthcare providers.
Event Details
Tuesday, April 24, 2018
7:45 AM - 4 PM
Sheraton Syracuse University Hotel
801 University Avenue
Syracuse, NY  13210
Registration
$75 by April 1, 2018
$85 after April 1, 2018
6 Nursing CEs will be given to attendees.
Online Registration:
Registration can be completed online at the Upstate Foundation website

Conversations in the Disciplines 2018:

Best Use Technologies in Health Care Education and Practice
The rapid digital evolution has created a wide range of technologies available for use in health care education and practice.  Those technologies play an important role in improving patient outcomes, ensuring the quality and safety of care in health care practice, and supporting and enhancing students' learning if domain knowledge in health care education.  There is a great need for end users of technologies in educational and practice settings (e.g., nurses, other clinicians, health care faculty) to have a deep understanding of how to implement and integrate technologies effectively and efficiently into their practice.
Speakers who are experts in the health care education and practice fields will present sessions.
If you are an educator, a practitioner, or a student who is passionate or curious about using technologies in your teaching, practice, and learning, this conference is right for you.
Event Details
Friday, June 1, 2018
8 AM - 4 PM
CNY Biotech Accelerator at Upstate
841 E Fayette St
Syracuse, NY
5.5 Nursing CEs will be offered.
Registration
Early registration fees (before 5/1/2018)
$55 for SUNY participants
$65 for non-SUNY participants
$15 for students
Regular registration fees (after 5/1/2018)
$65 for SUNY participants
$75 for non-SUNY participants
$25 for students
Please refer to the event website

for additional information and for online registration

.
Nurse Practitioner Certification Review and Clinical Update

About this Course
This is a comprehensive 2.5-day course designed to prepare Adult Gero and FNP participants for the ANCC and the AANP national certification exams or to serve as a review course for certified nurse practitioners.  AGNP participants attend first 2 days.  FNP participants attend 2.5-day course.
Event Details
Sunday, June 3, 8 AM - 5:30 PM
Monday, June 4, 8 AM - 5:45 PM
Tuesday, June 5, 8 AM - 12:30 PM (FNP only)
Marriott Syracuse Downtown
100 East Onondaga Street
Syracuse, NY
Contact Hours
Adult Gero NP Course: 29.5 (15 hours Pharmacology)
Family NP Course: 29.75 (13.5 Pharmacology)
Registration Fee
Adult Gero NP Course $600 (Early Bird $540 before 4/22/18)
Family NP Course $600 (Early Bird $540 before 4/22/18
Includes syllabus, breakfast and snacks each day.
Please see APEA website

for additional information or for online registration
For More Information
Sherri McMullen, FNP Program Director
315-464-4276 or mcmulles@upstate.edu
Online Nursing Case Management Course
A course for Nurses and other professionals who work directly with patients and coordinate their healthcare activities.
APPLY BY MARCH 1 FOR FALL, JUNE 1 FOR SPRING!
For additional information about the Case Management course, visit the course page.
For registration information and material call or email:
Jodie Brown, Director, brownjod@upstate.edu, 315 464-4276