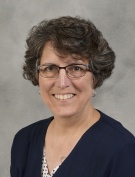 "I represent our Office of Faculty Affairs, and my staff and I are committed to developing the potential of all the members of the Upstate faculty and see them succeed and thrive".
Please feel free to call or email for more information:
Content
Clinical Mission
Mission: "to improve the health of the communities we serve through education, biomedical research, and health care".
Our first priority is the health and well-being of our patients. At University Hospital we provide high quality healthcare to our most vulnerable citizens at New York State designated Centers (e.g., AIDS, burn care, trauma, stroke) and Centers of Excellence (i.e., Joslin Diabetes Center, Cancer Center).
Learn more about the hospital, physicians and programs that support our clinical mission.
Learn More...