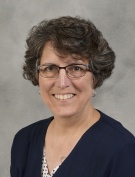 "I represent our Office of Faculty Affairs, and my staff and I are committed to developing the potential of all the members of the Upstate faculty and see them succeed and thrive".
Please feel free to call or email for more information:
Content
Educational Mission
Mission: to improve the health of the communities we serve through education, biomedical research, and health care.
The four colleges of SUNY Upstate Medical University offer 20 degree-granting programs.
Faculty members teach a diverse group of intelligent and motivated students and medical residents from many countries. The experience of nurturing young minds is very exciting! Learn more about the activities that support our educational mission.
Learn More...