Dr. Vincent Frechette receives 2015 Chancellor's Award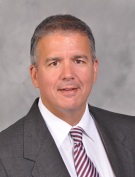 Dr. Vincent Frechette has received the 2015 Chancellor's Award for Excellence in Faculty Service. This honor is for his consistently superior service to the campus, the State University, and local community, his contributions at the regional, state-wide, national or international levels; his discipline or disciplinary and professional organizations and societies; and leadership in local or system-wide faculty governance.
The certificate and medallion will be officially presented at the Fall Faculty Convocation on Wednesday, September 16, 2015.